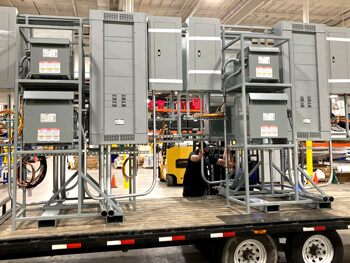 The Arizona division of Dynalectric Company (Dynalectric Arizona) has a combined 350,000 square feet of prefabrication and manufacturing space spanning Oregon, Washington, and Arizona.
Our facilities are designed with efficiency in mind and are furnished with state-of-the-art tools and equipment which promote low-cost, high-quality assembly.
Benefits of Prefabrication
Prefabrication creates opportunities to reduce onsite installation time and increase labor productivity by performing a portion of the work in a controlled environment. This "externalized work" is extremely efficient due to our standardized processes, materials, and build methodologies.
These practices reduce the high degree of build variation common to traditional electrical installations and streamline the on-site installation process, alleviating schedule compression and trade stacking.
Prefabrication promotes intensive planning and is further enhanced by our virtual construction department's expertise in Building Information Modeling using Autodesk Revit. Identifying prefabrication opportunities early in the preconstruction process allows us to leverage modeled content to aid in fabrication of electrical assemblies.
Because prefabrication can minimize on-site operations and maximize in-house labor, it also helps us fulfill our commitment to workplace safety.
Expert Project Management
To keep the prefabrication process running smoothly, we apply diligent effort in planning and management.
We avoid common missteps by communicating with other trade contractors, reviewing building plans and site logistics, and coordinating work and delivery schedules. We also contact vendors early in the process to help ensure the right materials arrive at the right time.
By sorting and organizing materials with advanced handling processes, we help ensure proper shipment and simplified installation. Even unboxing materials ahead of time can keep waste off the job site and lead to cost savings.
Our Prefabrication Capabilities Include:
UL 508A control panels
Pre-assembled electrical equipment skids
Electrical Houses (E-Houses)
Pre-terminated panel board and transformer racks
Conduit and raceway support systems
Underground conduit riser racks
Pre-punched boxes and brackets
Pre-assembled light fixture systems with power and controls
Light fixture preparation
Large or small conduit bending
Temporary lighting and power
To take full advantage of our prefabrication services, contact us today.