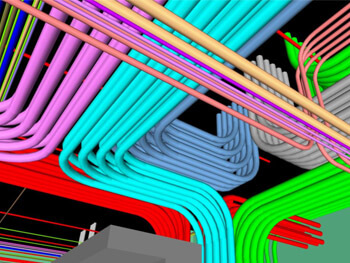 The Arizona division of Dynalectric Company (Dynalectric Arizona) tightly integrates advanced Building Information Management (BIM) technology into our work processes.
Our virtual construction experts use BIM to verify base models and conditions, create site layouts, design components, field installation drawings and more.
BIM helps us avoid rework, resolve constructability issues, identify prefabrication opportunities, and communicate effectively with internal team members and external trade partners.
Complete BIM Coordination, Access, and Training
You can count on Dynalectric Arizona to assist with or lead the BIM coordination process on your projects. Our collaborative approach helps ensure BIM supports the construction schedule while allowing coordination to happen quickly and efficiently.
To get the best results from BIM coordination, we make sure to stay in communication with installation and construction teams in the field. Using laptops and portable hand-held devices, we supply the latest information in real time.
Because all contract documents, installation drawings, field layout points, markups, and 3D models are hosted in the cloud, everyone involved in your projects has access anytime, anywhere.
BIM for Prefabrication Efficiency
We combine BIM with our prefabrication services so we can increase labor productivity and alleviate schedule compression and trade stacking while maintaining our high standards for safety and quality.
Creating intelligent models using Autodesk Revit, we can prefabricate large electrical equipment skids, conduit racks, underground duct banks, and more that are ready for installation. This helps streamline field installation and facilitates rapid, precise construction.
To learn more about our virtual construction services, contact us today.